To be remembered by our Clients as the company that made a difference to theirs by giving the power to evolve through the best improvement techniques
Values
Our values are important to us – they shape how we deliver for you. 
Honesty, Teamwork, Simplicity, Accountability
A Brief
Introduction
to Project7
Project7 is a company that is part of a wider group called 'The Project'. Since 2005, our focus has been on improvement and project management.  Underpinned by Lean methodology, we have been able to assist companies with achieving strategic change, nurturing better performance and achieving Continuous Improvement.  We use a light touch, utilising just the right number of experts and bespoke processes to achieve success.
We lead strategy experts, Lean process creators, change agents and interim leaders.  We understand senior leadership challenges because we've been there ourselves and we objectively share our knowledge and experience.
People + Process

= Performance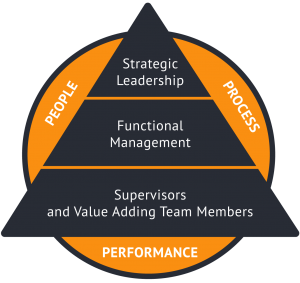 Developing the right People behaviours is the key to developing great leaders. We have identified 7 Leadership Habits that form the basis of development for the leaders of the future.
Organisations need the right Processes in place to enable People to deliver sustainable excellence, and create an environment of continuous improvement.
We have identified 7 Processes, aligned to our 7 People behaviours, which when combined deliver proven sustainable Performance.
Continually improving Performance can be achieved through developing ordinary People around robust Processes.